Country
India
Population
1.324 billion
Energy Access
79.2%
People Without Electricity
240,000,000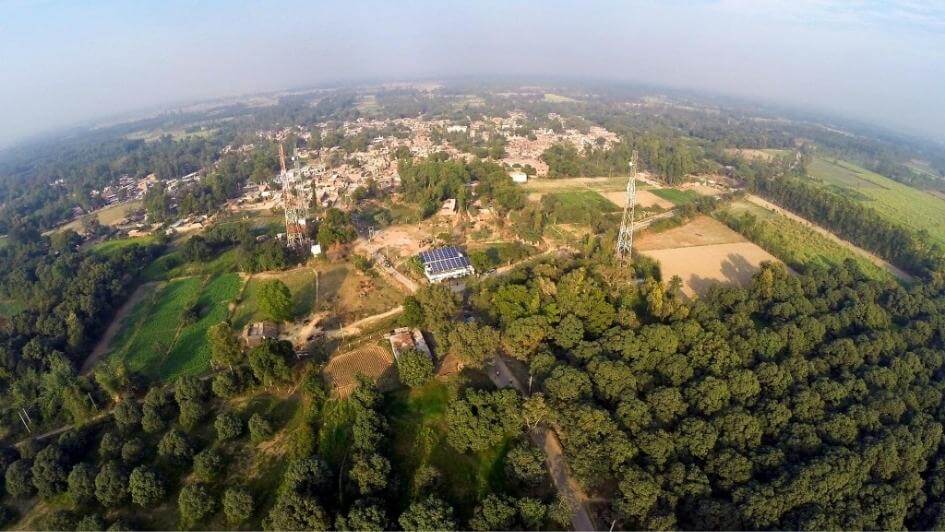 India's Decentralized Renewable Energy Enterprises Show Resilience Amid COVID -19 Pandemic
Clean Network has recently published the State of the Sector report, and it shows that the Decentralized Renewable Energy (DRE) sector in India, with policy and financing support, is poised to bounce back from the sluggish growth of the past year.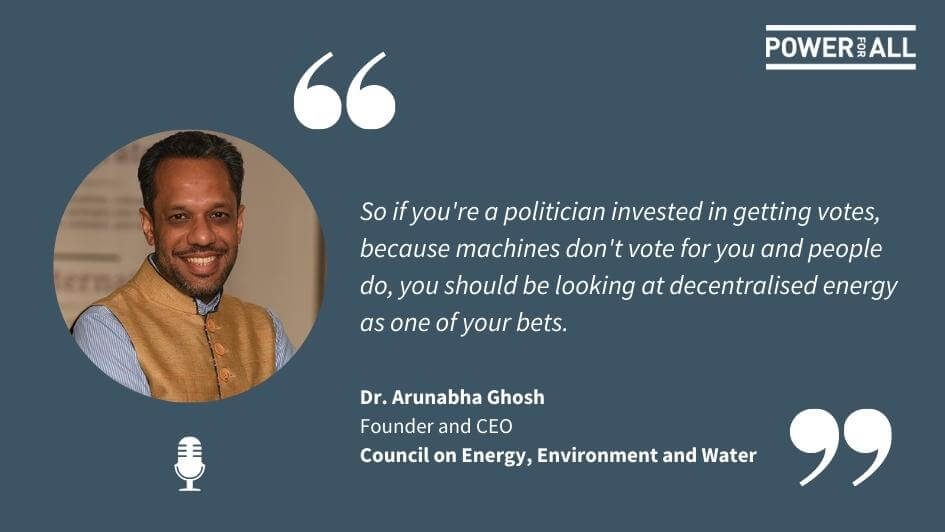 Interview with Dr. Arunabha Ghosh: 2022 Top Energy Access Trends
In this podcast episode, Dr. Ghosh, the founder and CEO of Council on Energy, Environment and Water (CEEW), and Power for All CEO, Kristina Skierka continue to dissect our 2022 top trends for energy access.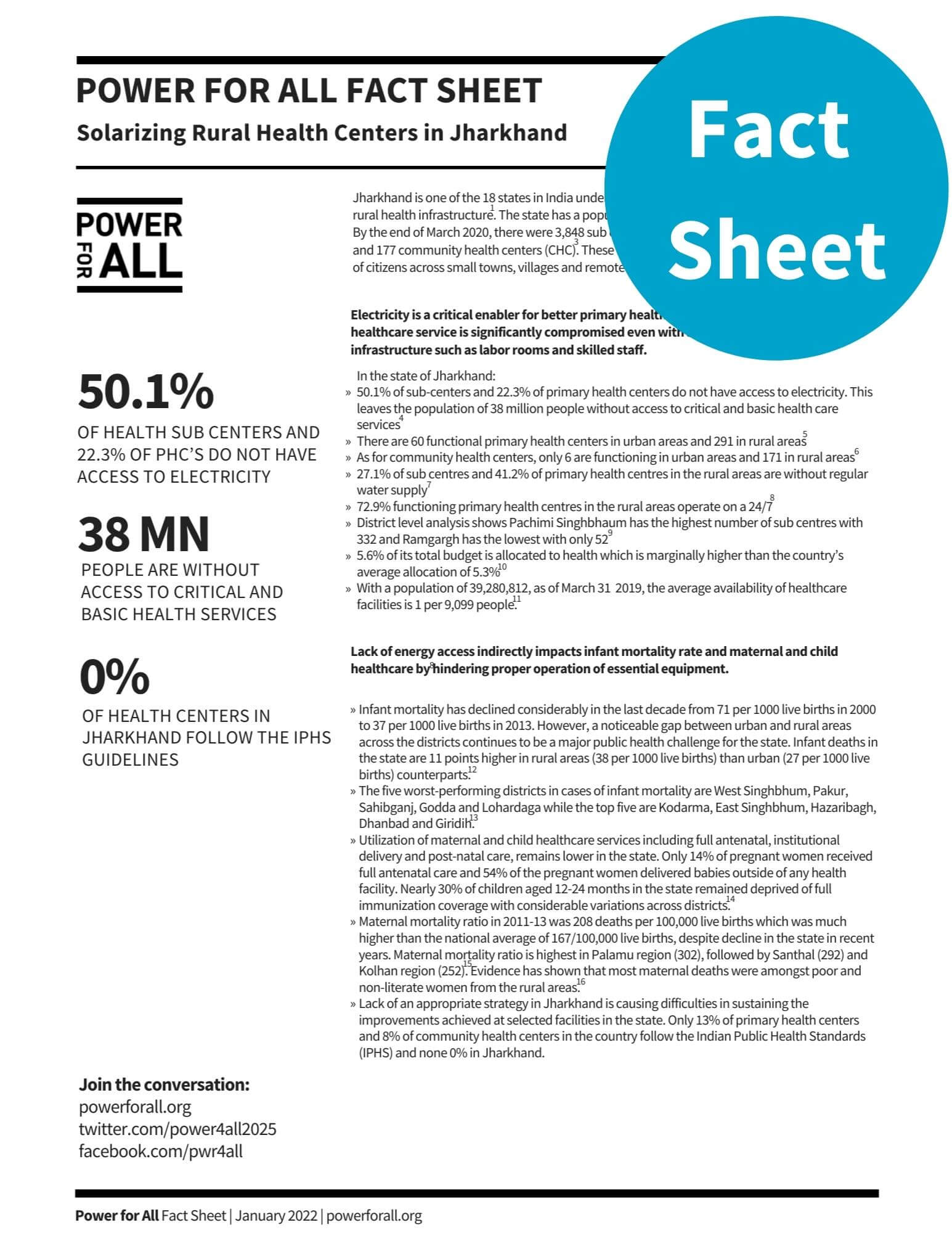 Fact Sheet: Solarizing Rural health Centers in Jharkhand
Nearly 38 million people in the state of Jharkhand, India, do not have access to critical and basic health services. Decentralized Renewable Energy can empower the 4000 rural health centers with reliable electricity, which will ensure quality health care for all in the state.
Power for All
in India
Through its Saubhagya initiative, India currently is at 99.99% electrification with only 18,734 households without electricity. However, the quality and reliability of electricity access remains an issue, as does the long-term sustainability of the largely grid-based approach. Power for All's work in India is focused on building a powerful, evidence-based narrative for the country's decentralized renewable energy (DRE) sector, to spotlight its critical role in not only providing quality, fiscally responsible and customer-centric 24/7 electricity services to India's rural poor, but improving livelihoods and generating economic activity and employment.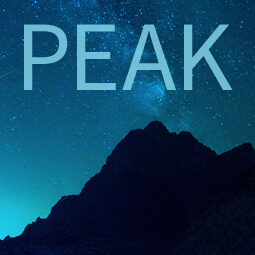 Platform for Energy Access Knowledge
Explore the best energy access idata and thinking with PEAK, our powerful interactive information exchange platform.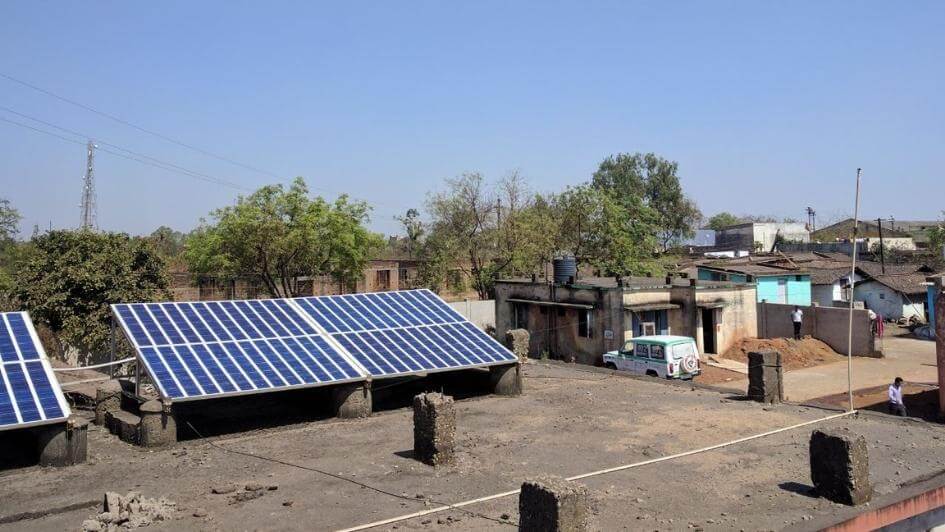 India can lead in ending energy poverty for good: will it seize the opportunity?
Power for All looks into the role India needs to play in ending energy poverty by increasing investments in decentralised renewable energy sector.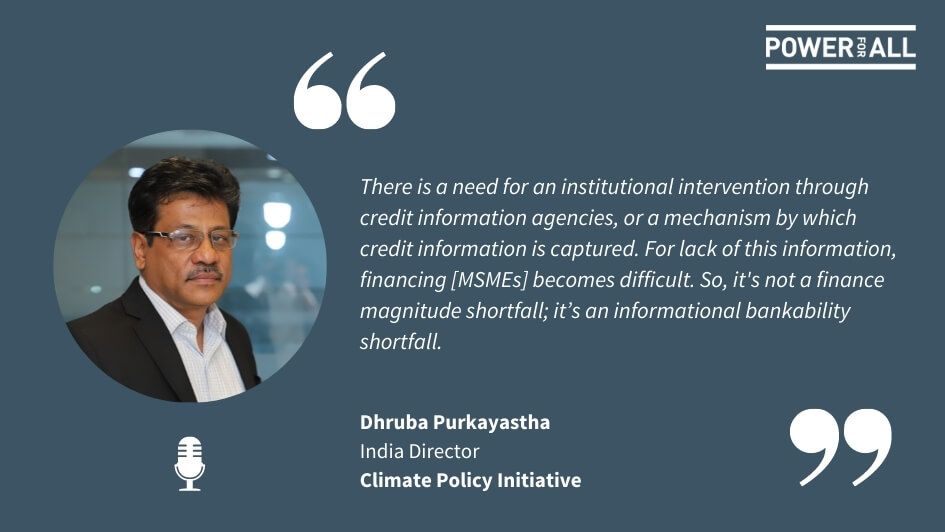 Interview with Dhruba Purkayastha: The Future of Distributed Renewable Energy in India
In this episode of the Power for All podcast, Divya Kottadiel speaks with Dhurba Purkayastha, who leads the team at CPI in developing innovative finance and policy solutions in support of the government's renewable energy and green growth plans. He is also the director of US India Clean Energy Finance. The conversation centres around CPI's recent report on the future of distributed renewable energy in India, which outlines the benefits and market potential of India's DRE sector, examines the current policy and institutional landscape and provides tailored recommendations for various stakeholders.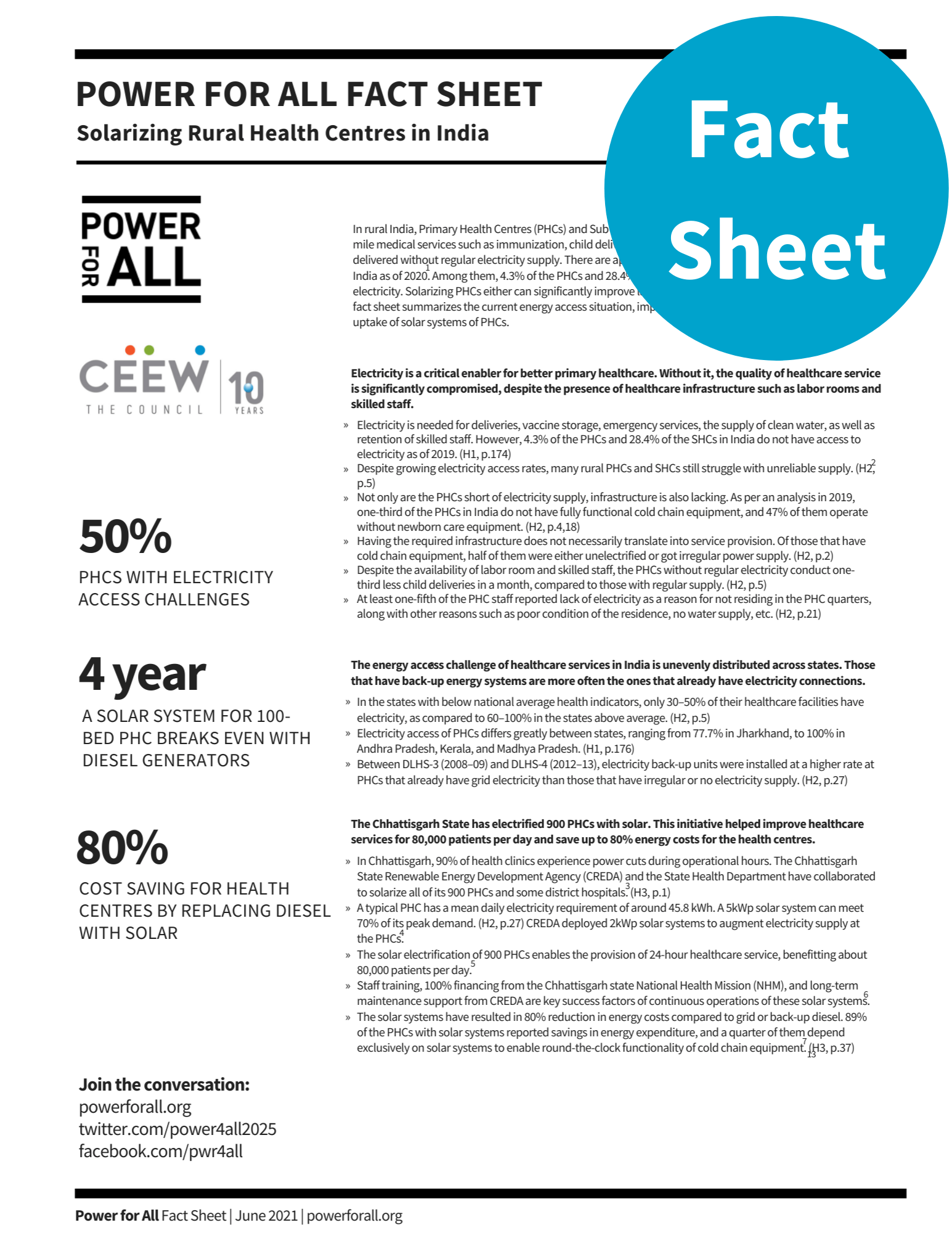 Factsheet: Solarizing Rural Health Centers in India
As of 2019, 4.3% of India's rural Primary Health Centres (PHCs) did not have access to electricity. While the upfront cost of a solar system is high for most PHCs, displacing diesel generators with a solar system can save 80% of a health centers' energy costs while bringing many benefits in improved healthcare services.