Country
Kenya
Population
48.46 million
Energy Access
36%
People Without Electricity
31,014,400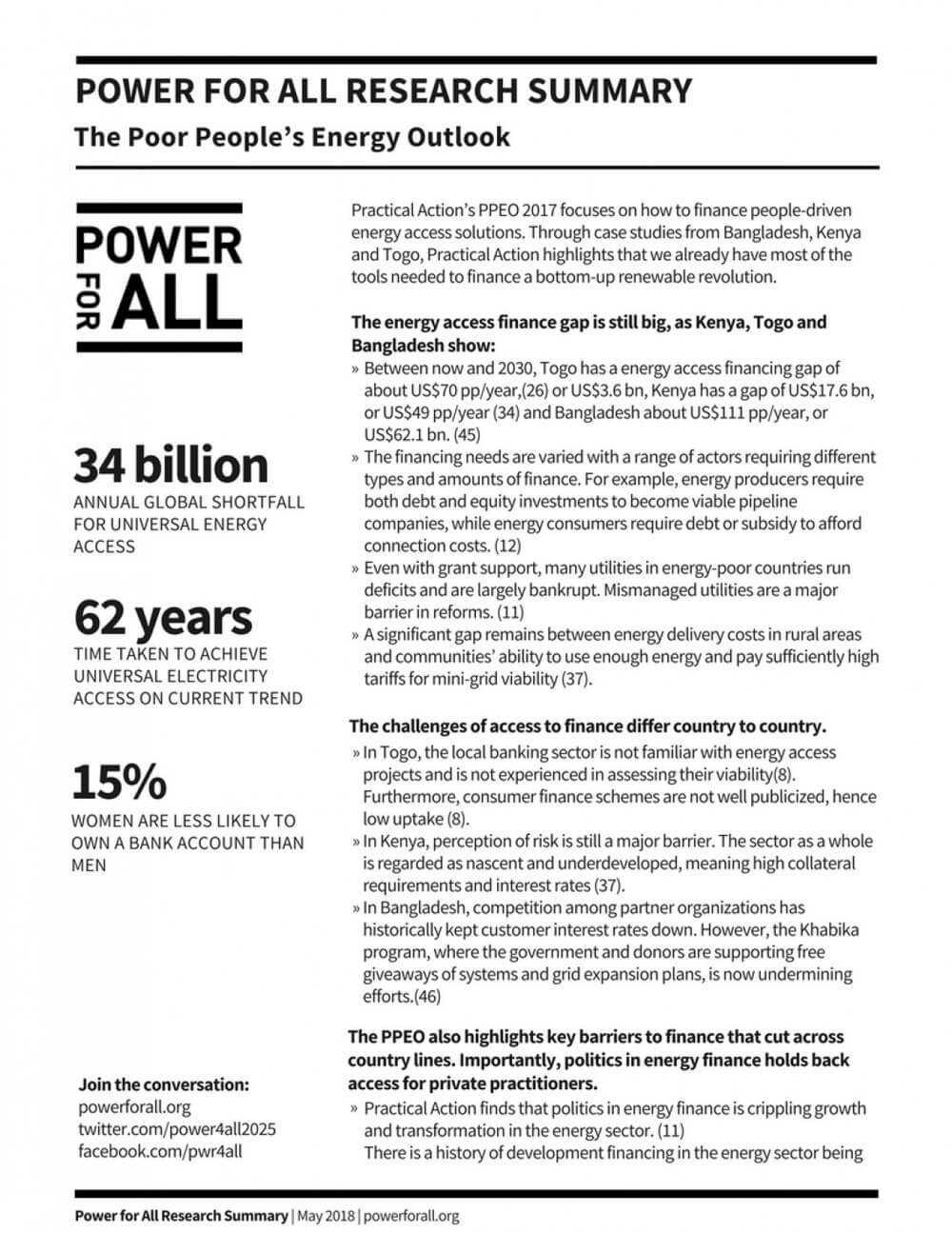 Research Summary: Poor People's Energy Outlook
Practical Action's PPEO 2017 focuses on how to finance people-driven energy access solutions. Through case studies from Bangladesh, Kenya and Togo, Practical Action highlights that we already have most of the tools needed to finance a bottom-up renewable revolution.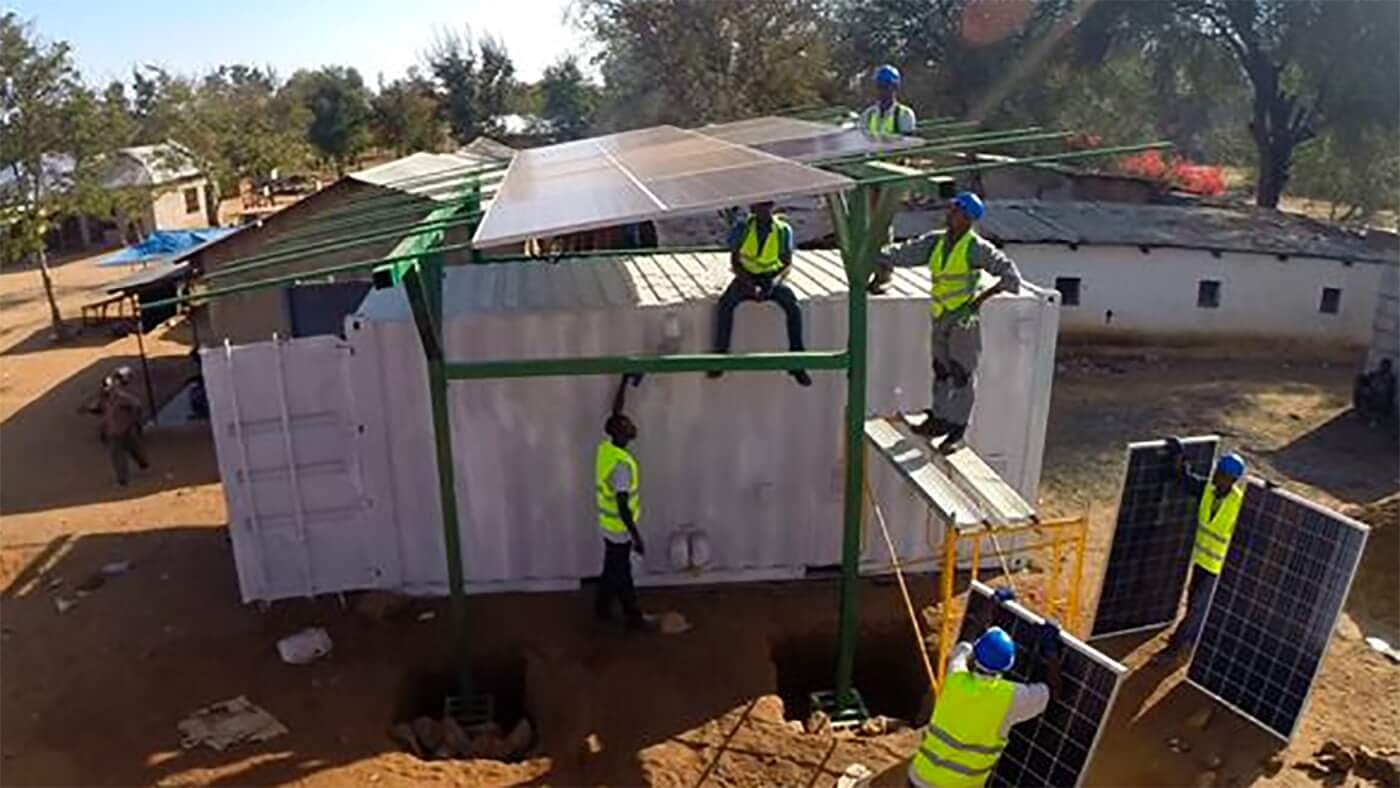 Insider Insight: Rafiki Power
The International Energy Agency has advised that 45 percent of rural electrification—bringing power to over 480 million people—is best achieved via mini-grids. In a recent Power for All survey, we asked mini-grid providers for their insights on the most important steps policy-makers can take to unlock this potential. In the technology category, standards, clear regulation and fast, low-cost licensing and permitting were all pinpointed as key policy actions

Data access is critical to achieving electricity access
One of the biggest gaps identified by the decentralized renewable energy (DRE) sector is access to quality data and research. The African Development Bank (AfDB) for instance recently said lack of reliable data is one of the single most critical challenges for private mini-grid investors. Power for All's Platform for Energy Access Knowledge (PEAK) was created 18 months ago to help bridge that gap – both to provide data needed by the sector, and to help make most effective use of the information which already exists. PEAK addresses the gap in information availability and use by supporting the visibility, discoverability and usability of critical knowledge for the sector through research, our interactive knowledge sharing platform communications and advocacy.
Power for All
Power for All's country-level campaigns build powerful coalitions of companies and civil society organizations to champion the reforms needed to accelerate distributed renewable energy market growth and end energy poverty. We advise national governments, strengthen renewable energy industry associations, enhance collaboration among stakeholders, and work with the local media--helping everyone play their role in achieving universal energy access by 2025.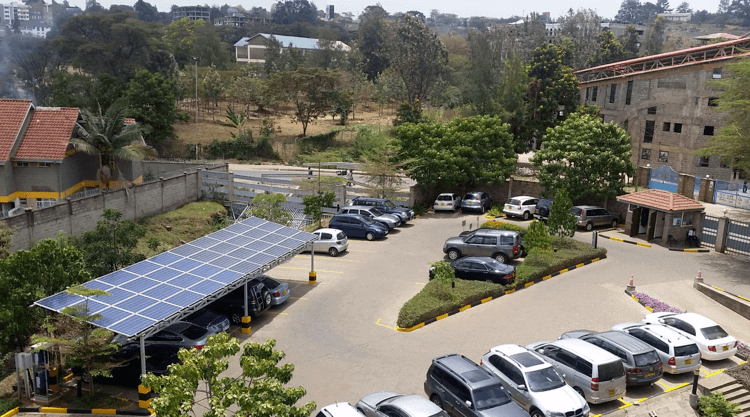 Extending the Horizon: Access to Finance and Kenya's DRE Market
Our Director of Research, Dr. Rebekah Shirley, took a post-conference opportunity to explore the catalysts of growth in the Kenyan decentralized solar market. In this article, she shares key insights and reflections from KEREA, Steama.co, Azuri and Tropical Power.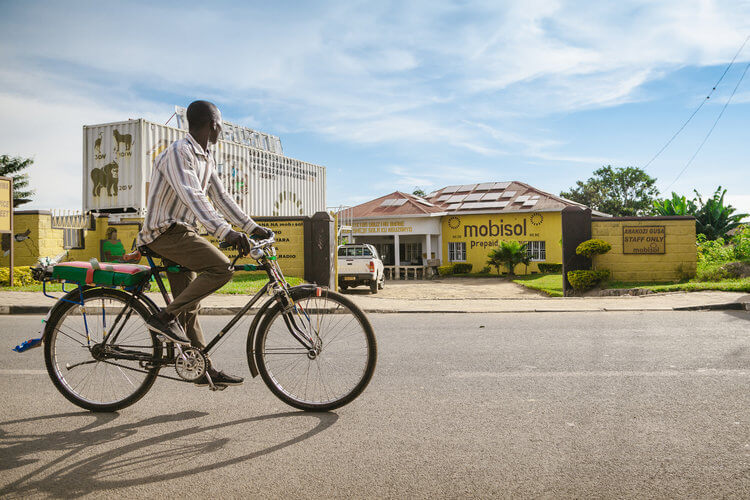 Kenya's 2020 Target Fires up Market
Kenya's recently issued target of universal energy access by 2020 has galvanized the decentralized energy market, with companies looking to capitalize on Kenya's rapid growth. The latest entrant is Berlin-based company Mobisol, who announced plans to open in the East African hub, along with an influx of new equity financing to fuel the expansion.
Guest Post: 5 Lessons from Kenya's Energy Access Boom
Kenya's market for decentralized renewables is the fastest moving in Africa. Already 15-20 percent of Kenyan households use solar lighting and the country is home to a pioneering green mini-grids program, thousands of biodigesters and 3,000MW of micro-hydro systems. I was recently invited to share Kenya's experiences on this rapid expansion with policy-makers in Zimbabwe, as both our countries work to achieve universal energy access by 2030.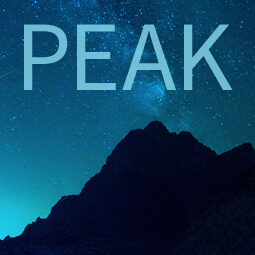 Platform for Energy Access Knowledge
Explore the best energy access idata and thinking with PEAK, our powerful interactive information exchange platform.