One of the major objectives of the Scaling Off-Grid Energy project (SOGE), funded by USAID and Power Africa and co-implemented in Nigeria by Power for All and FHI360, is to increase awareness and knowledge among sub-national policymakers of how decentralized renewable energy (DRE) solutions can accelerate energy access. The main platform for meeting this goal is a 6-part series of regional workshops, called DRE101, with the first two already held in Kogi State, North Central Nigeria, and Enugu State, South East Nigeria.
The response to the workshops has been so positive that states are beginning to seek more detailed trainings and closer interactions with the project:
After two high-level members of the Abia State governor's kitchen cabinet participated in the second regional workshop in Enugu on March 13, Abia State invited Power for All to the first state-focused DRE101 workshop for local policymakers. The training, which was funded by the state, was attended by close to 60 leaders, including state commissioners, special advisers to the governor, civil servants and bureaucrats, as well as trade associations and business and community leaders. The training was focused on ways through which DRE can increase electrification rates within the state, which are currently 58% of a household population of 992,432.
Held on May 30 in the state capital Umuahia, the workshop also included private sector partners of Power for All namely Solynta Energy, Protergia Energy, ASteven Group and Solar Sisters, who shared and demonstrated their solutions.
Allwell Okere, Commissioner for Energy, said: "Abia State is ready to embrace DRE and is looking to work with Power for All to set up a taskforce and build a framework that will drive DRE adoption in the state in order to help it meet its 100% electrification rate target by 2020."
Most of the attendees were learning about DRE technologies for the first time, and were excited to learn of the recent advances and innovation in technology and business models. Several admitted to having their misconceptions challenged regarding the suitability or durability and affordability around renewables. Others decided to purchase small pico-home solar solutions to test out at home and several, or entered advanced talks with technology companies to partner in driving DRE to their homes and businesses.
During the training, the Power for All team took the participants through different aspects of DRE, such as the technologies available and how they can meet different tiers of energy usage, the business models available, and how they can be used to drive energy access for all levels of consumers. The private sector partners also spoke about partnership with the state government and other stakeholders.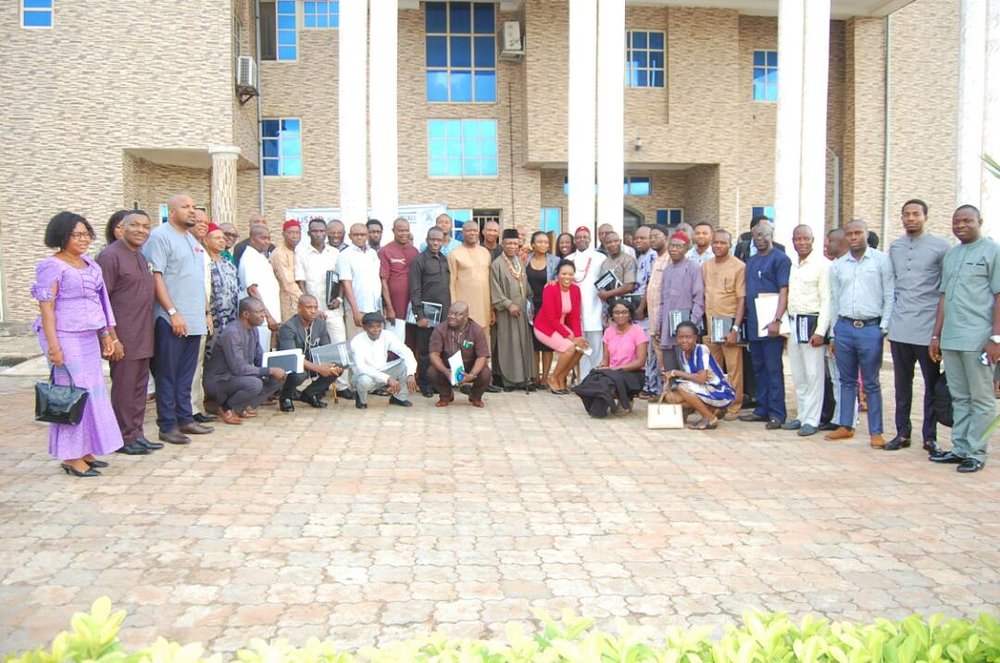 An engaged audience asked the Power for All team and the private sector partners numerous questions on DRE, mainly around technologies, cost and affordability, and the capacity of DRE solutions and durability. There were also questions on plans to build local capacity in the DRE sector in terms of manufacturing of equipment and training of manpower.
Unlike other DRE101 workshops, which were a one-day event, the Abia State government organized a second day with community representatives, women and youth groups, business unions and other relevant stakeholders.
The participation of these civil society groups was seen as crucial to the adoption of DRE in their communities through engagement and advocacy, promoting community ownership and building capacity to create employment and entrepreneurship opportunities for women and youth.
Moreover, it was an excellent opportunity to leverage knowledge of their communities to brainstorm ideas on how to drive DRE in the state by creating breakout groups focused on community engagement and participation, building and supporting entrepreneurship, aiding communities to attract DRE, and human capacity development.
The discussions were facilitated by the Power for All team and produced excellent ideas including: using influential members of communities such as village chiefs to increase awareness of DRE, encouraging cooperatives that will enable entrepreneurship and training of women and youth groups on DRE sales and installations.
These ideas were well-embraced by the state government and the private sector partners present, who also held a meeting facilitated by Power for All on how to execute DRE projects within the state.
Ify Malo, the Nigeria Country Director for Power for All said: "Working with the Abia State Government on this two-day workshop has been one of our highlights of the Scaling Off Grid Energy project. We are looking forward to working with them even more closely to actualize their energy access goals using DRE and we hope that other states shall emulate them in looking at decentralized renewables as the fastest, cheapest way to increase electrification for their residents."