At COP22 the shock of last week's unexpected election results has many worried that a Trump presidency could jeopardize climate finance and climate action. So it is a good time to remember why the global community, including the United States, must redouble its efforts in support of decentralized renewable energy (DRE). Here are 5 reasons:
1DRE will save almost 1 Gigaton of CO2e and toxic pollution: By 2030, distributed renewable power, such as off-grid solar and renewable mini-grids, can save almost 1Gt of CO2e each year—the same as the annual emissions of Germany, the world's 4th largest emitter. The technology may be small, but it is a mighty power in the climate fight.
2DRE will save lives by improving air quality: The World Health Organization has calculated that air pollution from coal-fired plants, waste and car use led to a million deaths in China in 2012, and last week, schools closed across Delhi as emissions surpassed safe levels by 1600%. Providing clean energy access via DRE helps countries avoid carbon intensive energy infrastructure. It is already eliminating the use of diesel generators and millions of toxic kerosene lamps, which cause respiratory illness and lung disease. Replacing them makes sense. To everyone.
3DRE powers employment and development: DRE is helping families in the world's poorest communities save money, increase productivity, improve education and far more. While large fossil fuel plants take an average of 9 years build, stand alone solar, biofuels, micro hydro, small scale wind and renewable mini-grids can power homes, businesses and public services—such as schools and hospitals—in a matter of weeks or months. The sector is also creating jobs and powering economic growth—in Bangladesh the solar home system industry already employs 115,000 people, while in India, 80 percent of enterprises powered by renewable mini-grids plan to expand their business because of access to reliable energy.
4DRE helps climate resilience and adaptation: all 30 of the countries most affected by climate change suffer from acute energy access issues. Nigeria, 12th on the list*, is home to 96 million people living without power and 170 million people whose livelihoods rely on agriculture. Solar water pumps are increasing crop yields by 300%, while renewably powered refrigeration and farm equipment is enabling small holders to store food and increase food security. Rapidly deployable DRE is also increasing resilience within vulnerable communities impacted by climate disaster.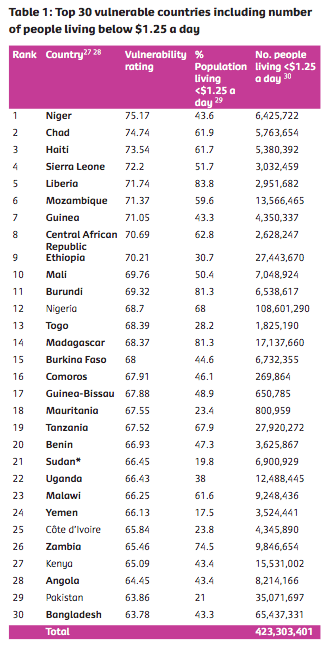 5DRE is driving a new 'green revolution': The need for greater efficiency in appliances run by solar home systems and renewable mini-grids has led to extraordinary efficiency breakthroughs. Efficiency has driven 50% cost reductions for solar lights in the past 5 years, and super efficient appliances, such as fans and refrigeration, are now using 50% less power than standard appliances. These huge breakthroughs have been deemed as "structurally as important in the energy space as the Green Revolution was in the agriculture space". They are breakthroughs that will benefit us all.
----
*Using the impacts of climate change in Nigeria as just one illustrative example—in 2050, 75% of the Niger Delta and much of Lagos is likely to be underwater, while droughts, floods and land degradation could reduce national GDP by 11 percent in 2020 and 30 percent by 2050. Climate change is also linked to the rise of the terrorist organization Boko Haram leading to a significant threat of increased security incidents. The trailer for the film 'Nowhere to Run' provides a snap shot of this critical issue.