At the end of the day, residential rooftop solar is a finance business. Whatever the business model - leasing, paygo, micro-finance - it's all about managing money, while on the investment side, it might be bundling small projects and securitizing them. So it's not surprising that the new CEO of Indian market leader Simpa Networks is a former CFO and banker - Piyush Mathur.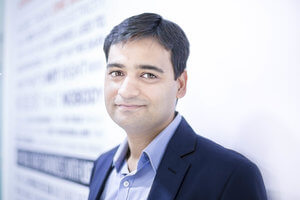 Piyush Mathur, CEO, Simpa Networks
Simpa, which has raised $29 million in different types of funding since its launch in 2011, has 35,000 customers in Uttar Pradesh, the Indian state with the highest number of unelectrified people. Simpa aims to enter more than 160 districts in five other energy-poor states -- Bihar, Odisha, Assam, Jharkhand and West Bengal. Simpa's partnership with local banks and financial institutions also means that most of their growth is now being financed off-balance sheet, a first for the sector globally, according to the company.
It is the largest rooftop solar leasing company in rural India, installing 80w to 800w per customer (most in the 100-200w range). The company's early focus on profitability has been achieved through a combination of technical and organizational innovation. Its newest rural branches are achieving profitability in less than half the time as their first ones that were set up in 2014/15. And its newest SmartPanel technology leverages IoT to further optimize costs and provide remote monitoring and control. 
"24x7 Power for All is the national goal and one which Simpa shares wholeheartedly,"  Mathur said.  "The rapidly falling price of home solar and more available financing means that unelectrified rural consumers now have choice, and rooftop solar will be a top choice whether it is stand-alone or grid-tied."
Later this year Simpa will formally launch a solar home system that comes with a LED TV with an in-built satellite receiver, so customers can watch free-to-air channels immediately on installation, without grid electricity. 
Simpa is also working with a number of partners to explore a pathway to quadruple the capacity of its rooftop systems and achieve an affordable solution that can provide minimum peak capacity of 8 hours per day and 3 hours per night.