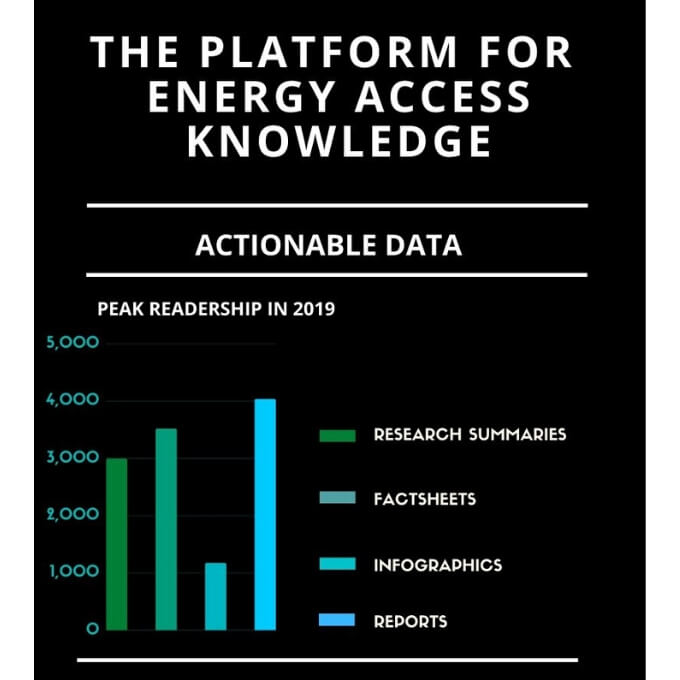 May 21, 2020
Monkgogi Otlhogile, Eva Lee and Rebekah Shirley
Technologies, Infographics
Data for Energy Access: A PEAK into Power for All's Research Engine
The challenge of digesting new information
Power for All works in some of the least electrified countries in the world, and recognizes that the lack of awareness about advances and impacts of decentralized renewable energy (DRE) technology is a major impediment to strategic energy decision-making.  Though the volume of data produced about energy access grows every year the sector still struggles to provide the right data, about the right people, at the right time. Reports and datasets often fail to reach their target audiences (even the World Bank is challenged with published reports not being downloaded very frequently). In addition, sifting through data located in various repositories makes it even harder for decision-makers to obtain the key data points they need with the little time they have. To streamline the process of finding and distilling information Power for All created the Platform for Energy Access Knowledge (PEAK). PEAK is a novel research and data synthesis platform forged through industry-academic partnership with a mission to make data accessible, understandable and usable by critical energy stakeholders. 
What exactly is PEAK? 
Established in 2016, PEAK is a team of researchers, analysts and specially developed digital technology that together distills troves of data into compelling, data-driven insights about DRE's role in achieving universal energy access. The platform was designed through stakeholder consultation and a review of existing energy information portals. PEAK is based on three pillars of action: helping users organize and easily find data; turning dense new reports and data into actionable findings and ready-to-share knowledge products; and conducting new, applied, and innovative research to address the sector's outstanding critical knowledge gaps and unanswered questions. 
What has PEAK's impact been: 
Our digital data aggregation platform is a free and open-source tool that integrates a select portfolio of open-access data management applications that together facilitate the curation of relevant publicly available reports and data and tools to make synthesis, data visibility and in-depth research easier for the DRE sector. Since 2018, PEAK has amassed over 32,000 visitors from over 100 countries such as the United States, India, Kenya and Nigeria. PEAK users represent a wide spectrum of stakeholders in the sector including researchers, DRE companies and rural electrification agencies who enjoy the wealth of data on the platform and take a key interest in PEAK's visualization tools and case studies. The case studies highlight and bring visibility to partners' data such as Factor-E's work on income-generating appliances for mini-grid developers in rural communities.
The synergy between the research team and platform has facilitated the production and publishing of  Power for All's signature research summaries, factsheets, spotlights, and infographics which have become an industry staple. They are easy to consume and widely shared, covering timely topics like how decentralized renewables contribute to reducing black carbon emissions and delivering better health care, or what key trends are driving the evolution of mini-grid business models, or why utilities struggle with financial and technical efficiency, and what policy innovations can improve their performance.
With over 11, 000 readers in 2019 and dozens of these short-form content pieces in circulation, PEAK has revolutionized how researchers in the sector think about communicating their findings. PEAK also directly supports Power for All's work in coordinating action on the ground.  When PEAK published a widely-circulated position paper that identified five key policies for unlocking DRE markets based on statistical analysis, the findings were used by our campaign leads to engage local government agencies, leading to commitments of action in Nigeria and Zimbabwe, and the launch of a DRE Task Force in Sierra Leone. Effects of those interventions are still felt today. In addition, PEAK's innovative research reports are widely read and used across sub-Saharan Africa, Asia and globally by researchers, media and government agencies . The Powering Jobs Census 2019, the first bottom-up job study of the DRE sector covering India, Kenya and Nigeria, has since been featured in CNBC Africa, World Bank, and Forbes and has played an integral part in shaping the narrative about employment opportunities in the DRE sector.
So you might be wondering, what is PEAK's secret? The ability to produce and curate timely content is possible because of our ability to work with industry practitioners and research institutions alike, and because of our mission-driven focus on communication. It is important for us to speak the languages of the many different types of stakeholders that the sector comprises and needs. PEAK researchers go on to use these skills across different disciplines in the industry. 
What is next for PEAK: 
PEAK's ability to curate and deliver critical data points and new insights is limited by the data that we currently have access to. Looking forward, the PEAK platform aims to utilize artificial intelligence to unlock and grab data from sources previously untapped. Extracting data from tables in PDFs is one of the ways a smarter PEAK will enable new research avenues for the PEAK team and for the sector. However, a smarter PEAK can only be useful if key stakeholders have access to it and we continue to try to crack the code on a 'lighter' but still information-rich version of PEAK for our low-bandwidth users across the world. 
PEAK Quotes
"The DRE sector insights from Power for All help us frame and communicate the positive impact we are making in the world. The Powering Jobs report series opened our eyes to the 'value in our value chain', capturing the incredible number and quality of jobs being created by the sector worldwide. In addition, this report series highlighted the contribution of the sector to wider professional and economic development, including our contribution as capacity builders, trainers, and innovators. Through their communication materials and publications, they continue to provide us with the tools and perspectives to understand how the sector contributes to SDG8." - Binagwaho Gakunju, d.light
"At 60 Decibels we've appreciated having the clever Power for All team synthesise and condense our work to a summary or factsheet. We know that people have different amounts of time and different levels of appetite to get stuck into results; this provides a snapshot and an overview. For those who'd like to find out more, they can read the report. For those who want the overview - it's there in a simple two-pager. A great way to keep updated with what's going on." Kat Harrison, Director of 60 Decibels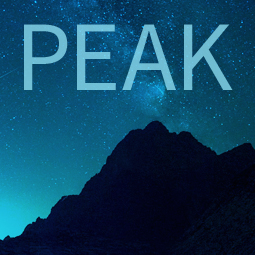 Platform for Energy Access Knowledge
Explore the best energy access data and thinking with PEAK, our powerful interactive information exchange platform.