ABUJA, Nigeria, March 23, 2018—Power for All, a global advocacy campaign for distributed renewable energy (DRE), has concluded two workshops in the North Central and South East regions of Nigeria on phasing out inefficient lighting such as kerosene lamps, and enabling a transition to the use of clean, distributed lighting solutions.
The workshops, which took place in Lokoja, Kogi State as the focal point for the North-Central region on February 27th, and in Enugu, Enugu State as the focal point for the South East region on March 13th had in attendance over 300 policymakers, faith-based institutions, civil society organizations and trade associations in both regions.
DRE solutions—which range from pico-solar solutions and stand-alone solar systems (SHS) to mini-grids and mobile solar farms—have the advantage of being readily available, affordable, and immediately deployable. This allows energy access to be delivered to consumers in a number of days, versus the years it takes to site, permit, build and manage a traditional centralized fossil fuel grid system.
DRE solutions are an important tool for Nigeria to better exploit the full range of its renewable energy resources, especially by delivering energy services to last-mile communities trapped in energy poverty.
Ify Malo, Country Manager of Power for All, said, "Energy poverty forces people to resort to inefficient forms of energy and lighting through fossil fuels such as kerosene which comes with a lot of costs: financial, health, safety and environmental costs. As a global campaign, Power for All believes that the fastest way to achieve universal access to clean, modern energy is through the acceleration of DRE which eliminates these costs."
As a result of energy poverty, millions of Nigerians use inefficient fossil-fuel based lighting such as kerosene lamps and batteries which have huge direct and indirect costs—around 17% of the Nigerian population use kerosene lamps as a source of lighting.[1]
Nigeria's current electrification rate stands at 45% nationally, while in the North-Central region it is 57%, and 63% in the South-East region. The target of Nigeria's Federal Government is to achieve an electrification rate of 75% nationally by the year 2020.
The workshops, implemented by Power for All, are part of the "Reducing Black Carbon Emissions by Transitioning to Clean and Sustainable Lighting Project", which focuses on phasing out kerosene lamps in Nigeria, and promoting a market transition to DRE and energy-efficient lighting products. The work is funded by the United Nations Environmental Program (UNEP) and the Climate and Clean Air Coalition (CCAC), as part of CCAC's Household Initiative Framework.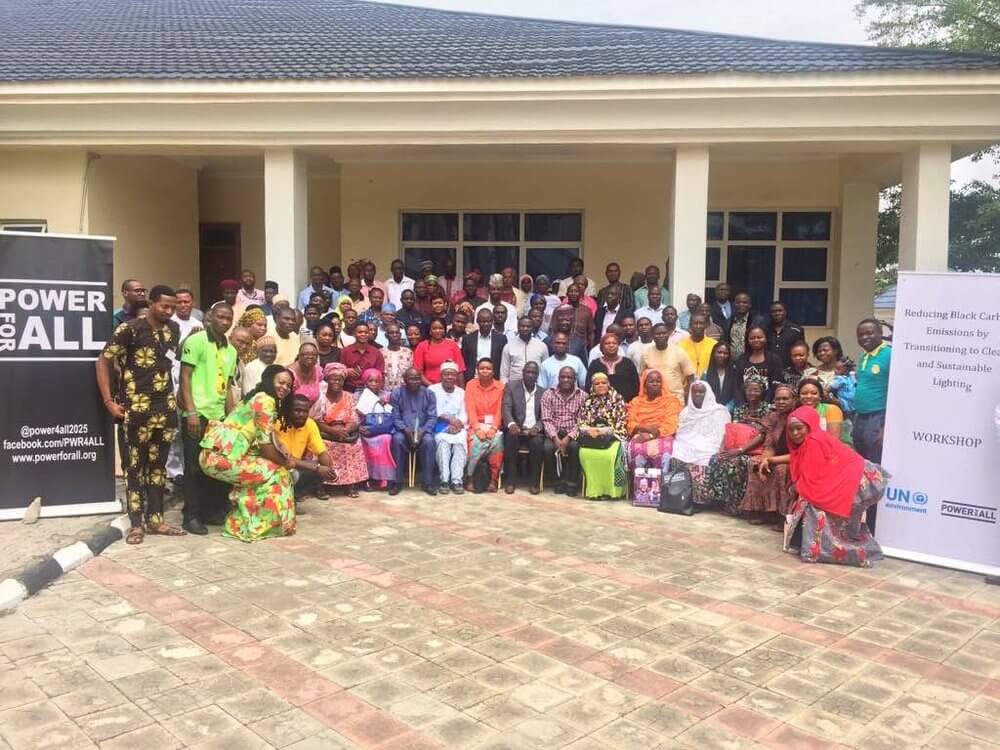 As part of the project, Power for All conducted a study on the state of kerosene lighting in Nigeria, encompassing the financial costs, health and safety risks of kerosene use, environmental impacts of kerosene use, the benefits of switching to solar lighting and how best to achieve the switch. These findings were shared with participants at the workshops who are potential key stakeholders in achieving the transition through policy formulation, advocacy and market participation. These study found that the use of kerosene lighting increases the risk of tuberculosis nine times[2] and cataracts two times and that Nigeria can save about $1.4 billion yearly by a transition to clean, modern lighting.[3]
Enehe Dorcas, Head of the Climate Change Department of the Kogi State Ministry of Environment, said: "The Kogi State Government has been grappling with how to protect the environment while at the same time meeting the energy needs of the people. We are excited about the potential of DRE solutions and are looking to partner with Power for All and all other stakeholders to achieve solutions."
Sam Enejoh, Vice-President of the Kogi State Chamber of Commerce, Industry, Mines and Agriculture (KOCCIMA), said: "The Chamber of Commerce and Industry is excited about the business opportunities that DRE presents in transitioning from inefficient lighting to clean, modern lighting and will mobilize its members to take advantage of it while providing efficient lighting and electricity for everyone within the state and even beyond its borders."
Uche Aniche, the founder of #StartupSouth, which focuses on attracting investment for startups in the South-East & South-South regions, said: "It is a great project that affects everyone across the whole spectrum of the society. It also presents opportunities for entrepreneurs."
Imam Khalid Danjuma of Jama'atul Nasril Islam (JNI), Kogi State Chapter, said: "As the umbrella organization for all Muslim bodies, we intend to use what we have learnt from these workshops and sensitize our members on the dangers of using kerosene for lighting, and encourage them to transit to using clean lighting sources."
Chioma Ononyaba, Program Manager of Justice, Development and Peace Caritas (JDPC), a Catholic organization said: "These workshops will enable the Catholic Church to sensitize its members and communities it is working in on the dangers of kerosene lighting and how to end power shortages through these solutions."
There were also presentations from renewable energy companies such as Consistent Energy, GVE Projects Ltd, Creeds Energy, SoSAI Renewables, Cloud Energy and Solar Sisters who spoke about their clean lighting products and projects. The companies also exhibited these products and held demonstrations on their use and effectiveness.
Power for All is a global campaign that advances decentralized renewable energy as the fastest, most cost-effective and sustainable approach to universal energy access. It is active in India, Zimbabwe, Sierra Leone and Nigeria, and the campaign's more than 200 partners have a footprint in over 15 energy-impoverished countries.
In Nigeria, Power for All facilitated a Call to Action that saw over 15 partners cutting across government, private sector, donors and civil society undertake commitments to actions that will grow the DRE sector.
It was also instrumental to the establishment of the Renewable Energy Association of Nigeria (REAN) to enable the private sector to be a part of renewable energy policy formulation and has underpinned the formulation and adoption of various policy instruments aimed at growing the DRE sector, such as the federal Mini-Grids Regulation.
For more information, visit the Nigeria information hub of the Power for All website at powerforall.org/countries/nigeria
[1] National Bureau of Statistics (2016) LSMS-Integrated Surveys on Agriculture and General Household Survey Panel, page 37 http://nigerianstat.gov.ng/download/476
[2] Pokhrel, A.K., Bates, M.N., Verma, S.C., Joshi, H.S., Sreeramareddy, C.T., Smith, K.R. (2009) Tuberculosis and Indoor Biomass and Kerosene Use in Nepal: A Case-Control Study. Environmental Health Perspectives 118(4), pp.558-564.
[3] Solar lighting can deliver major development and climate benefits – UN agency https://news.un.org/en/story/2013/02/432442-solar-lighting-can-deliver-major-development-and-climate-benefits-un-agency. Accessed 21st March 2018