Power for All at the SEforALL Forum in Lisbon
Power for All had a significant presence at the SEforALL Forum. CEO Kristina Skierka joined a high-level panel on "Electricity for All in Sub-Saharan Africa", and research director Rebekah Shirley guided an interactive working session called the "Energy Access Dividend—Data that Informs and Influences", looking at how to further research on socio-economic impacts of electricity access, with participation from Acumen, Duke University, RVE.SOL, wPower Hub and the World Health Organization.
Together with partners Hivos, Practical Action and SNV, Power for All also shared an initial concept note on its 25x25 project, which aims to scale market activation for distributed renewables in 25 countries by 2025.
And Power for All attended discussions on sustainable energy efforts in Africa, where discussions concluded that while financing continues to be a major hurdle, momentum in many African countries to advance their energy access goals is clearly a priority.Read the full article here.
Power for All also moderated three Facebook Live discussions at the Forum. Two of them focused on mini-grids, with the newly launched Africa Mini-Grid Developers Association (AMDA) and the Africa Mini-Grid Innovation Lab.
Gabriel Davis and Lucy Shaw from CrossBoundary, an investment firm focused on frontier markets, spoke about the potential for mini-grids in Africa. CrossBoundary has launched the first innovation lab for mini-grids in Africa, working to identify new business models that will bring more power to more people at less cost.Watch the video on Facebook.
AMDA's global coordinator Jessica Stephens and AMDA member and PowerGen president Aaron Cheng addressed the reasons why mini-grids can play a mighty role in delivering universal electricity access to 100s of millions of people, and what the recent launch of AMDA means for the sector. Watch the video on Facebook.
Finally, CEO Kristina Skierka and Gilles Vermot Desroches, Senior Vice President of Sustainability at Schneider Electric, discussed the fact that a frequently overlooked element in achieving energy access is skills and training, that is: human capital. If the solutions to end energy poverty are there but the talent is not, SDG7 will not be achieved.
Later this year, Schneider Electric and Power for All will launch a new initiative to focus attention on this gap. Watch the video on Facebook.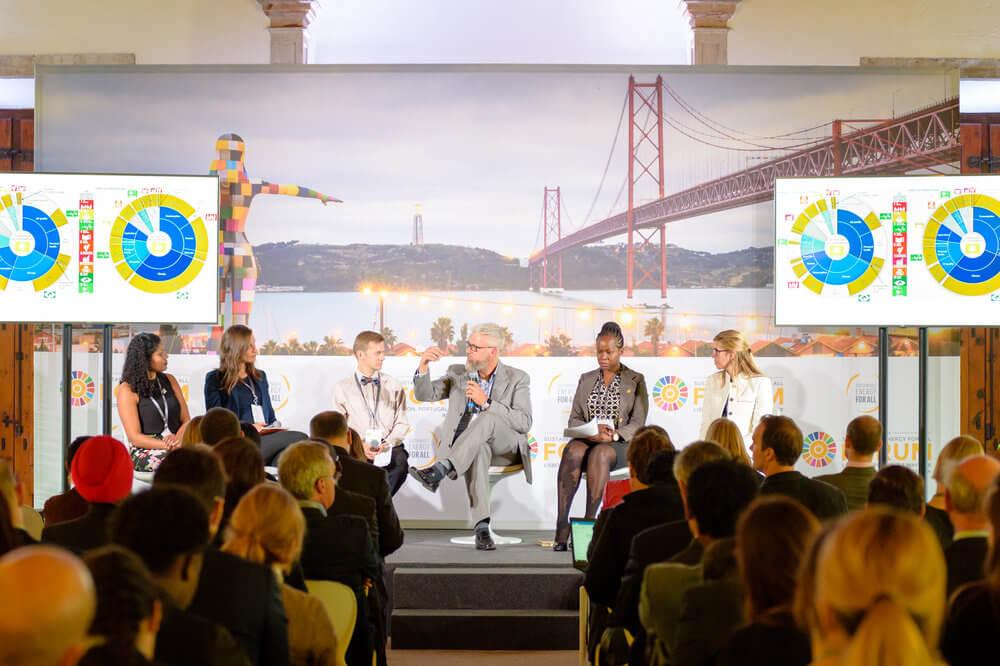 Power for All's Research Director Wins Young Leader Award
Rebekah Shirley, Power for All's director of research, has won the Outstanding Contribution Award: Young Leader (sponsored by ESI Africa) in the 2018 African Utility Week Industry Awards.
The event crowns the pioneering utilities, projects and people in the energy and water industry on the continent. Hundreds of power and water professionals gathered to honor the top projects and people in the industries on the continent in the fifth edition of the awards gala as part of the just concluded African Utility Week conference and exhibition.
South Africa's Deputy Minister of Energy, Ambassador Thembisile Majola, was the guest of honour at the awards gala which featured two new categories, namely Energy/Water Reporter of the Year and Digital Solution of the Year.
An expert scientist from the African diaspora, Rebekah is using cutting edge technology to lead a new generation of energy researchers to tackle some of the sector's biggest challenges. Rebekah came to the Power for All campaign in late 2015 to address this problem head-on. Over the past three years she has built the Platform for Energy Access Knowledge (PEAK) - a DRE research platform forged through industry-academic partnership with a mission to make data accessible, understandable and useable by Africa's critical energy influencers—policy makers, financers, regulators.
Rebekah said: "It is truly an honor to be recognized for the 'behind-the-scenes' work my team at Power for All and I do. Research is not often an award highlight, but now more than ever, Africa needs innovators who understand how to make research, data and knowledge relevant to the public and leaders it serves.
"We have a huge opportunity to collectively address economic growth, climate change, poverty, food security, access to energy, water and healthcare, all of which are imminent and interconnected challenges. Sustainable solutions will require our institutions to deliver rigorous, applied, locally appropriate, interdisciplinary research and true partnership with industry. I hope to continue growing this capacity for critical thinking, bringing more African women into research to strengthen the gender voice, and fostering stronger communication and collaboration across the continent."
Energy and Equity Discussed at Joint University Event in Kenya
Earlier this year, Power for All participated in a workshop on Energy, Electrification, Equity, at Strathmore University in Kenya.
The Energy, Electrification, Equity: the Role of Decentralized Electricity and Storage Systems in Meeting East Africa's Community Needs workshop was organized under the EVALUATE project, in collaboration with Strathmore Energy Research Center.
The purpose of this workshop was to have an interactive discussion around the current landscape of decentralized electricity and storage systems and their role in meeting community needs. Five guest speakers and more than 20 participants joined the workshop from Kenyan governmental and non-governmental organisations, research institutions and the private sector.
Tens of Millions of Urban Africans Still Lack Access to Electricity
Power for All's Research Director, Rebekah Shirley, published an article in The Conversation, discussing the fact that at least 110 million of the 600 million people still living without access to electricity in Africa live in urban areas. Most are within a stone throw from existing power grid infrastructure.
The article has received more than 5,600 reads, almost 50% from South Africa alone and another quarter from elsewhere in sub-Saharan Africa. Rebekah was subsequently invited to discuss the topic on VOC FM. You can listen to the clip here.
Rethinking Nigeria's Power Reform Through Scaling Off-Grid
Tech Economy wrote a feature on how Nigeria is rethinking its power project through a Scaling Off-Grid Energy (SOGE) model.
In the article, Power for All's Mark Amaza explained the rationale for the recent creation of a taskforce to drive decentralized renewable energy (DRE) in Nigeria, which is made up of diverse stakeholders in the DRE sector cutting across government, private sector, donor agencies, development partners and civil society organization.
"The objective of the taskforce is to test regulations and policies designed to accelerate DRE in Nigeria and suggest ways to improve it," said Mark, "as well as identify industry-wide challenges and explore ways to overcome them."
You can read the full article here: Rethinking Nigeria 'Power' Project Through SOGE Model
Power for All Takes Part in Roundtable at Vienna Energy Forum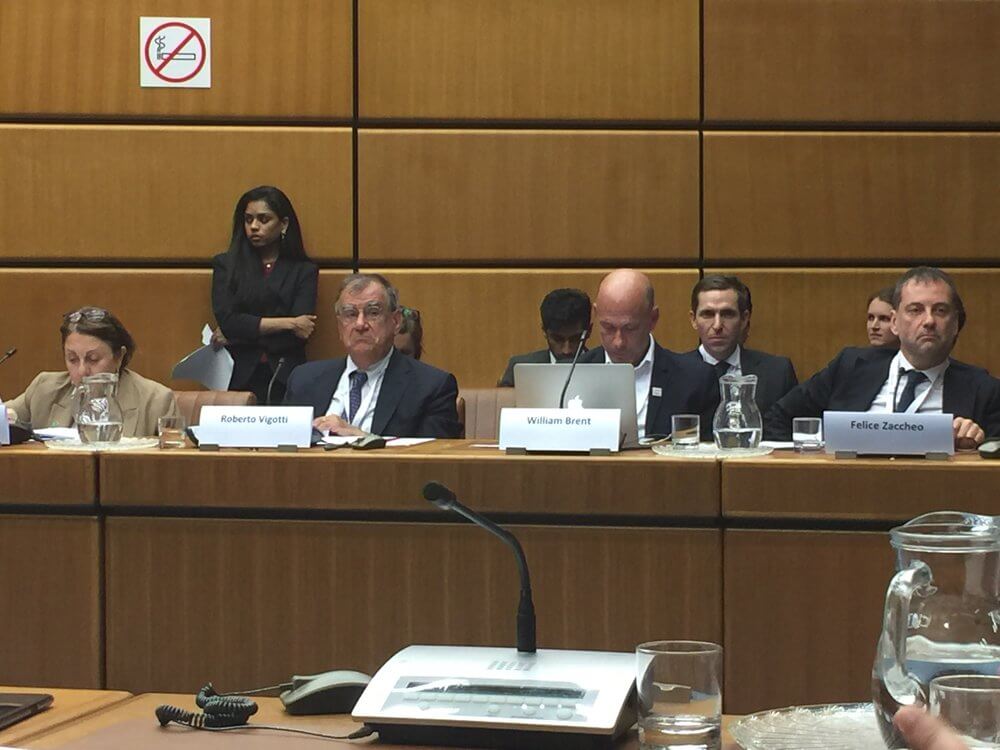 Power for All's William Brent took part in a high-level roundtable at the Vienna Energy Forum 2018 Special Session. William was part of the discussions on emerging low-carbon energy systems as a catalyst for industrial change in developing countries.
On shifting the energy paradigm, participants addressed issues including the need for energy efficiency and sufficiency; developing business models for companies to make money in decarbonized, digitized energy systems; the need to focus on decentralized areas and make investments in rural areas more attractive; bottom-up approaches, and the climate mitigation potential of energy efficiency versus energy decarbonization.
On barriers to the transition, discussants highlighted lack of institutional capacity; vested interests; energy planners' lack of awareness of current renewable energy costs; the gap between pledges and disbursements; lack of absorptive capacity, both for project finance and capacity building; long project implementation timeframes, and patent laws.
Participants also noted success factors from Morocco and Kenya's experiences in attracting investment, including through stable frameworks, planning and regulation, and focus on value chains.
On the socio-economic dimension, it was emphasized that while globally, the energy transition will bring great benefits, there will be losers at the national, local and company levels. Participants also underscored: different employment opportunities of focusing on different aspects of the value chain; the need to empower civil society; environmental awareness and the willingness to act of citizens in developing countries; governance at the local level; and affordability.
Organized under the auspices of the UN Industrial Development Organization (UNIDO), Austrian Federal Ministry for Europe, Integration and Foreign Affairs (BMEIA), the Austrian Development Agency (ADA), the International Institute for Applied Systems Analysis (IIASA) and Sustainable Energy for All (SEforALL), the Forum gathered over 430 leaders from governments, civil society, international organizations and the private sector.
The Forum included plenaries and high-level round tables on 14 May, followed by side events and special events on 15 and 16 May.
Power for All Gains New Partners
The Power for All campaign is fast gaining momentum, with new partners joining from all over the world.
This month we are pleased to welcome Power Offgrid from Somalia, Love for Life from the Amazon, ICE Commercial Power from Nigeria, Kingo, which mostly operates in Latin America, and 10 Power.
We also welcome two media companies to the campaign: Modern Diplomacy and ESI Africa.