Africa Mini-Grid Trade Group Launches
Power for All worked closely with our partner, the Africa Mini-grid Developers Association (AMDA), to help launch the world's first trade group focused exclusively on the full-range of mini-grid solutions. The AMDA press release is here, and media coverage included interviews on CNBC Africa and Channels TV in Nigeria. For more information, go to africamda.org. If you have mini-grid stories to share, please let us know.
Nigeria: Power for All Partners Make Big Strides
Nigeria-based decentralized renewable energy (DRE) company, Blue Camel Energy, commissioned a solar assembly factory and a renewable energy training academy in the city of Kaduna on April 4. The facility comes with the capacity to assemble 1,000 solar panels and the ability to train 2,000 to 3,000 people yearly, and will increase the local capacity of the DRE sector in Nigeria, while further reducing the cost of energy access.
Meanwhile, SoSAI Renewables launched its Experience Center in the city of Kaduna. The center, the first of its kind in the Nigerian renewable energy sector, provides an avenue to build consumer knowledge about renewable energy products and services. It also allows manufacturers in the sector to promote their products, and bridge the gap between distributors and end-users of renewable energy products.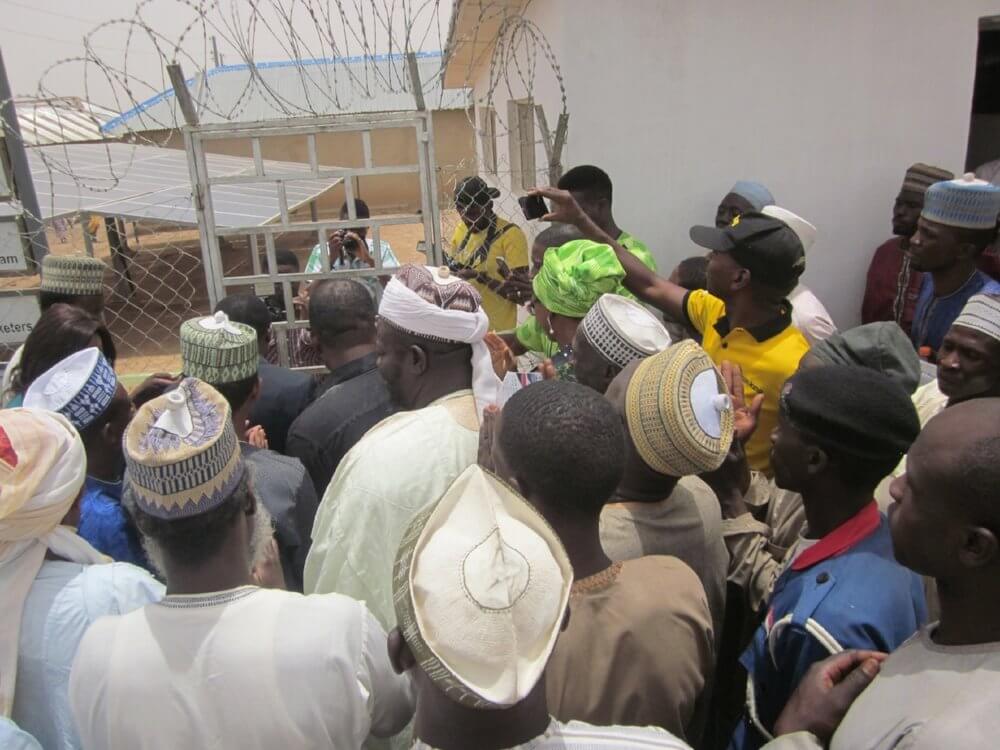 SoSAI Renewables has also commissioned two mini-grids and solar tunnel dryers in rural communities in Kaduna State. The mini-grids, which both have a 10kW capacity, are funded in part by a $100,000 grant from US African Development Foundation (USADF) Energy Challenge. The grids come with solar tunnel dryers so that communities can dry their food produce.
Renewables Trade Body Opposes New Solar Import Duty
Power for All and other critical stakeholders joined industry body Renewable Energy Association of Nigeria (REAN) on a recent campaign seeking the immediate reversal of thereclassification of solar products and components. This reclassification has led to an import duty on solar panels between 5–10%. REAN held a press conference on March 28 to raise concerns over the decision by the Nigerian Customs Service, despite solar panels being classified as having zero tariffs under the Customs code. The association is now engaged in a public campaign to detail the negative impact of the taxes. The campaign has been well-covered in print, broadcast and digital media, and has acquired 213 signatures on theChange.org petition, which is aimed at increasing public pressure on government to reduce the import duty.
Nigerian DRE Taskforce Meeting
Power for All and its partners—USAID Nigeria, Power Africa and FHI360—launched the Decentralized Renewable Energy (DRE) Taskforce last month, aiming to accelerate modern energy access initiatives in Nigeria as part of the Scaling Off Grid Energy (SOGE) project, implemented by Power for All and FHI360, and funded by the USAID and Power Africa.
The taskforce is drawn from diverse stakeholders in the DRE sector, including government, donors, renewable energy companies, development finance institutions, investors, civil society organizations, and trade associations, and held its first meeting on 18th of April.
The taskforce deliberated on challenges facing the sector, including how to better drive investments in order to meet local demand for DRE in Nigeria. The meeting also addressed how to engage the government on the import duty on solar panels, despite the existence of an import duty waiver on the panels.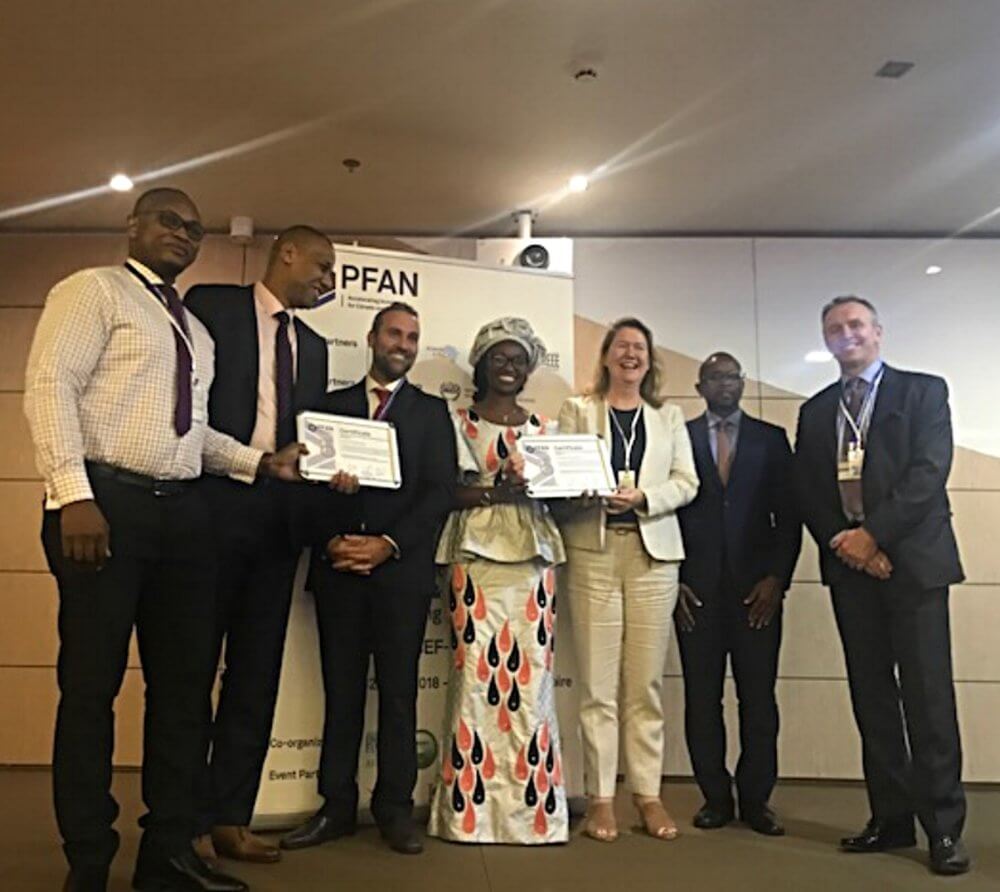 Sierra Leone: Winning Accolades for Innovative Projects
The West African Forum for Climate & Clean Energy Financing (WAFCCEF-3), organized by the Private Financing Advisory Network (PFAN), hosted its third Business Plan Competition at the African Development Bank Headquarters in Abidjan, Ivory Coast, on April 12.
This year's competition attracted over a 150 contestants from all over West Africa, and 20 were admitted into the semi-finals in Lagos, Nigeria, then assigned coaches in June 2017 to sharpen their business plans and submit to the final round. The top 10 finalists emerged and were announced this past November and went on to compete in the finals.
The competition for first place winner and runner up were held in a "shark tank" like manner. Both first place and runner up positions were secured by Sierra Leone renewable energy projects.
The joint first place winners were: the Masada Waster Transformers JV (turning waste into socially inclusive growth and unlocking the potential of biomass, a 6 MW off- and on-grid waste to energy project) and Solar Era Holdings (a 25 MW solar PV project covering Bo-Kenema, developed by Africa Growth and Energy Solutions), with Sewa Energy Resources (SL) as runner up (the Betmai, a 27 MW "run off the river" hydroelectric project on the Pampana River in Tonkolili, covering the rural and national grid).
The competition was well attended by a mix of over 200 investors from both private equity and debt funds, and judged by a professional panel of judges composed of representatives from the African Development Bank, Private Equity and Institutional Finance Personalities. They listened to and judged the 10 finalists who emerged from the 150 contestants across West Africa.
The competition was tight, with projects from Nigeria, Senegal, Burkina Faso and Ghana participating. The winners will now receive ongoing project finance structuring, consultancy from PFAN, senior advisors and financial assistance towards studies to ensure bankability and access to project financing from PFAN and AFDB network.
All three winners are members of the Renewable Energy Association of Sierra Leone (REASL). For more information about their projects, contact www.reasl.org or email info(at)reasl.com
Research: Power for All Cited in Academic Paper
Power For All was cited in Distributed Power Generation in National Rural Electrification Plans: An International and Comparative Evaluation by Johannes Urpelainen (John Hopkins SAIS) and Siyuan Ma (Columbia University), published in Energy Research and Social Science on April 2.
As the cost of distributed power generation continues to decrease, technologies such as solar home systems and micro-grids become increasingly attractive in the quest for energy access, say the authors. Urpelainen and Ma show, however, that national rural electrification planning mostly continues to ignore distributed power generation.
The paper is a detailed review of the national rural electrification plans of the 20 countries with the largest numbers of non-electrified households shows that distributed power generation is usually absent or at best a minor component of the strategy. Urpelainen and Ma's original contribution is thus to show where and how national rural electrification planning lags behind technology and business models, with guidelines for future research on explaining these patterns.
The paper's findings show that, consistent with other research (SEforALL 2017; IEA 2017; Power for All 2017), distributed power generation still remains a secondary consideration. Twelve out of the 20 countries have a national rural electrification plan that includes a distributed power generation target, but even these targets lack ambition and clarity on how they are to be achieved, say the authors, who add that governments have yet to make ambitious plans to tap the potential of distributed power generation in their quest for energy access for all.
Strengthening Ties Between Energy and the SDGs
Following our March newsletter on the linkage between electricity access and health, Power for All was invited to join a webinar hosted by Zilient.org, on innovations helping to achieve universal healthcare access, and identifying areas of new opportunity.
Joining experts Monica Kerrigan from Jhpiego, author Dr. Paul Richards, and Mouna Mayoufi of International Rescue Committee, Power for All's CMO William Brent highlighted the fact that one billion people are still served by health clinics without electricity, and pointed to a number of innovations happening in the renewable energy sector that are having positive impact on healthcare delivery. Watch the full webinar here, with a write-up here by Zilient.
Peak Research Director Nominated For Award
Power for All's Research Director Rebekah Shirley was in Paris this month to represent Power for All at the Schneider Electric Innovation Summit. See details on the summit here.
The entire summit was about new digital advances (for example, metering infrastructure) that are changing the way we do business, and what it means to be an energy service provider.
"Digitization has brought an industrial revolution," said Shirley. "I sat on a panel about what all this means for jobs and training, and spoke about the need for skilling up populations to take advantage of these changes."
This month, Shirley was also nominated for the Africa Utility Week's Outstanding Contribution Award (Young Leader) for my work on building research capacity here in SSA and for my work with PEAK. See more on the awards here. You can hear a recent radio interview with Shirley here.