Decentralized renewable energy is the faster path to power for all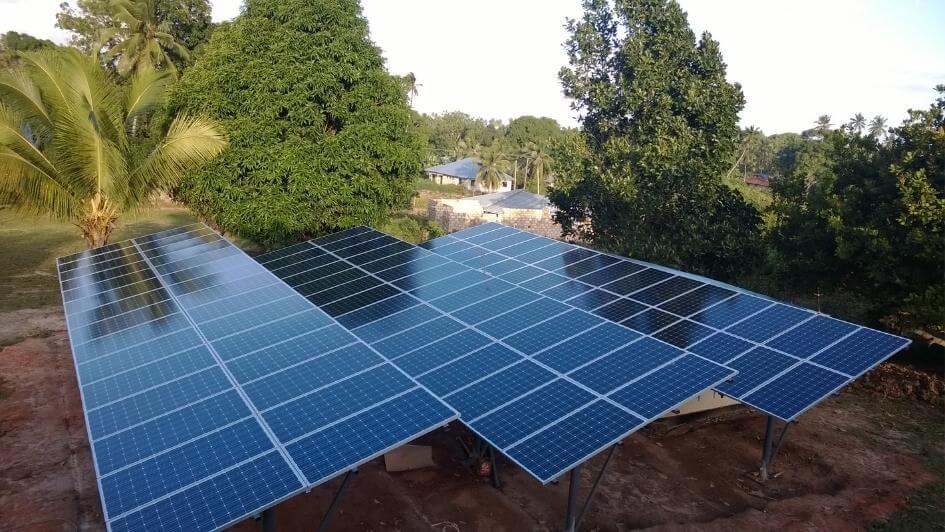 Impact
733M People Without Access to Electricity Globally as COVID-19 Slows Progress: 2022 SDG7 Tracking Progress Report
COVID-19 sets back previous gains in universal energy access with Sub-Saharan Africa paying the highest price. Renewable energy was the only energy source that grew through the pandemic.
Who We Are
2 billion people—almost a third of humanity—lack access to reliable energy. Power for All is a global coalition of 200 private and public organizations campaigning to deliver universal energy access before 2030 through the power of decentralized, renewable electricity.
Learn more about Power for All »
---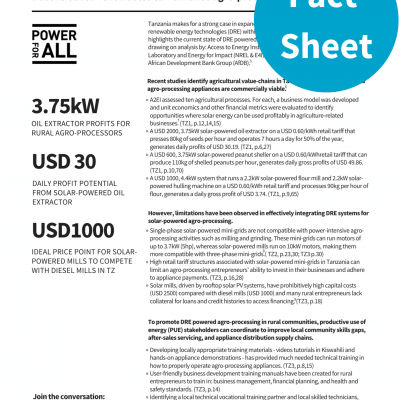 Fact Sheets & Research Summaries
Factsheet: Decentralized Renewables Can Enhance Agro-Productivity In Tanzania
Decentralized Renewable Energy (DRE) sources can enhance agro-productivity and food security. This Fact Sheet highlights the current state of DRE powered agro-processing activities in Tanzania, drawing on analysis by: Access to Energy Institute (A2EI), The National Renewable Energy Laboratory and Energy for Impact (NREL&E4I), the Energy Change Lab (the Lab), and African Development Bank Group (AfDB).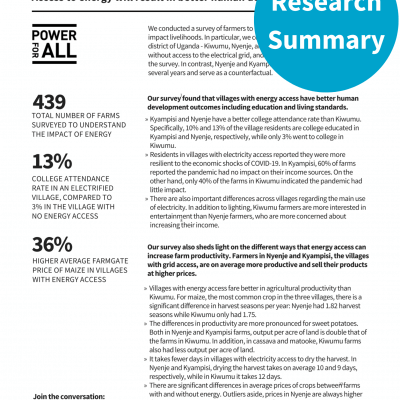 Fact Sheets & Research Summaries
Research Summary: Access to Energy Will Result in Better Human Development Outcomes
The agricultural sector has the potential to become a game-changer in sub-Saharan Africa (SSA), where 80%of the production is from smallholder farmers. However, less than one in three farmers have electricity access.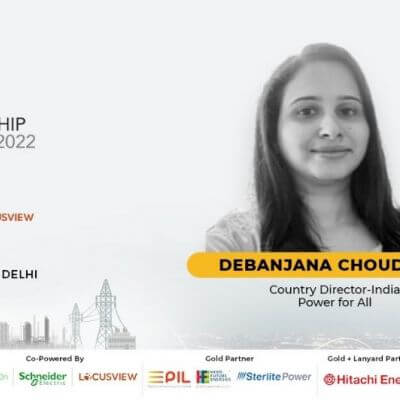 Events
The Economic Times Energy Leadership Summit
The Summit will bring together ministers, public sector officials and private industry executives to help create an informed debate on the key attributes of the new world order and to collaborate and discuss latest business trends.
Peak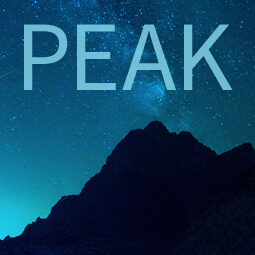 PEAK (Platform for Energy Access Knowledge) is our interactive information exchange platform that aggregates and repackages the best research and thinking on energy access into compelling data-driven stories for those work­ing to make energy ser­vices acces­si­ble to all.
Explore PEAK »
---
Insights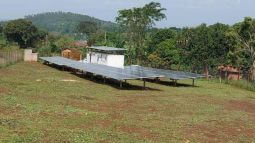 Finance
Going Beyond Access: Financing of Assets and Appliances Stimulates Energy Demand in Uganda
According to a recent household survey by the Uganda Bureau of Statistics, only 57% of Ugandans have access to any form of electricity. Of these, 19% and 38% were connected to the grid and off-grid power, respectively. Most of those without access to electricity are in rural areas where over 75% of the households reside and depend on agriculture as their main source of income.
Highlight
Check out our Resources section for more reading
Resources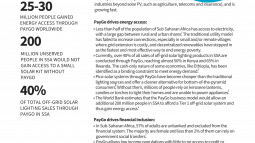 Fact Sheets & Research Summaries
Factsheet: Off-grid PayGo: Unlocking Affordable Energy Access and Financial Inclusion in SSA
PayGo (short for pay-as-you-go) is a system that allows customers to purchase solar home systems and appliances through installments. It has not only enabled bottom-of-the-pyramid households to access clean energy but it is also creating opportunities for financial inclusion and economic development.
Newsletter
Sign up to receive our newsletter & occasional updates about our campaign and the progress being made in the DRE sector.
Insights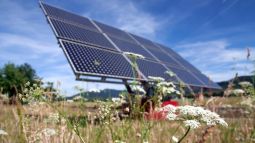 Impact
Transitioning to Clean Energy a Priority to Save Our #OnlyOneEarth and Humanity
Reducing the use of 'dirty' fossil fuels and speeding up the transition to renewable forms of energy, such as solar and wind, has been identified as one of the best options for slowing down climate change for a more optimistic future.
(We won't share your info, and you're free to opt out anytime. See our Privacy Policy for details.)