Decentralized renewable energy is the faster path to power for all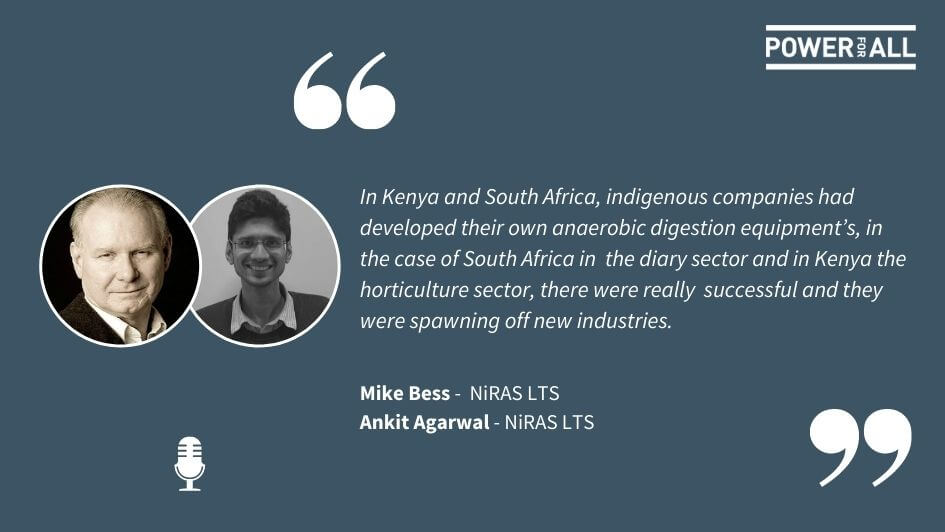 Podcasts
Interview with Mike Bess and Ankit Agarwal: Bioenergy for Sustainable Local Energy Services and Energy Access in Africa
In this episode of the Power for All podcast, Anand Pathanjali speaks to Mike Bess and Ankit Agarwal from BESA 2 project on behalf of NIRAS LTS. NIRAS-LTS partnered with Aston University, E4tech and AIGUASOL for a two-year research project entitled 'Bioenergy for Sustainable Local Energy Services and Energy Access in Africa - Phase 2' (BSEAA2), part of the Transforming Energy Access (TEA) programme, funded by the UK Foreign, Commonwealth and Development Office (FCDO). The TEA programme aimed to create innovative solutions for scaling up technologies and business models to support energy access in Sub-Saharan Africa (SSA).
Who We Are
2 billion people—almost a third of humanity—lack access to reliable energy. Power for All is a global coalition of 200 private and public organizations campaigning to deliver universal energy access before 2030 through the power of decentralized, renewable electricity.
Learn more about Power for All »
---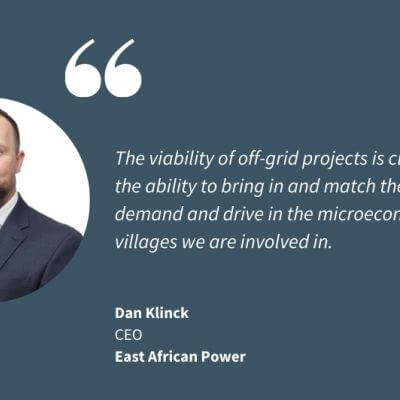 Podcasts
Interview with Dan Klinck, CEO of East African Power
In this episode of the Power for All's Integrated Energy podcast series, Kristina Skierka, founder and CEO of Power for All speaks with Dan Klinck, CEO of East African Power, an integrated renewable energy development company delivering affordable clean energy in sub-Saharan Africa.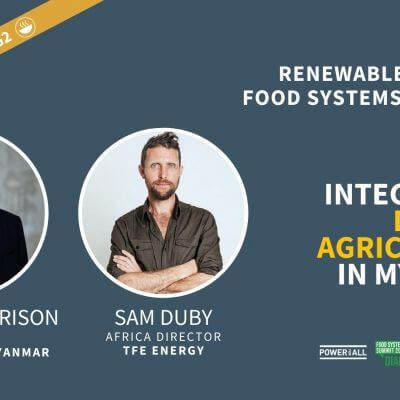 Podcasts
Interview with Richard Harrison (Smart Power Myanmar) & Sam Duby (TFE): Integrating DRE and Agriculture in Myanmar
In this episode of the Power for All podcast, William Brent speaks with Richard Harrison, the head of Smart Power Myanmar. Richard is joined by Sam Duby, research partner of Smart Power Myanmar, who is from TFE Energy. In support of this year's UN food system summit, this conversation is part of a special series on the critical link between food systems and decentralized renewable energy. This discussion aims to shed light on game-changing ideas in Africa and Asia that can help ensure sustainable energy for all, improve farmers' lives and support economic growth.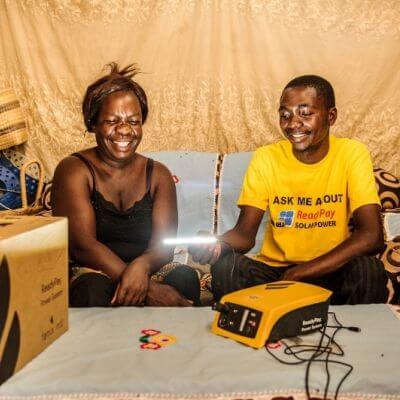 Finance
For local manufacturing to create jobs in Africa, governments need to look beyond standard incentives
For countries in sub-Saharan Africa to undertake successful assembly and manufacturing of solar products, there is need to ensure an enabling environment is created to encourage companies and investors to move beyond future commitments. It is critical that countries put in place that prioritise local content in off-grid solar procurement, as otherwise this will likely create supply side constraints in reaching energy access targets
Peak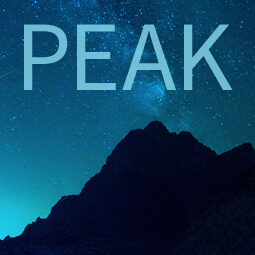 PEAK (Platform for Energy Access Knowledge) is our interactive information exchange platform that aggregates and repackages the best research and thinking on energy access into compelling data-driven stories for those work­ing to make energy ser­vices acces­si­ble to all.
Explore PEAK »
---
Insights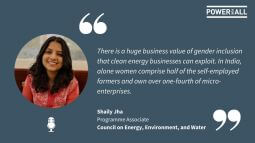 Podcasts
Interview with Shaily Jha: Improving Women's Productivity and Incomes through Clean Energy
In this episode of the Power for All podcast, a forum for leaders working to end energy poverty, Power for All speaks with Shaily Jha of the Council on Energy, Environment, and Water (CEEW). Shaily is CEEW's energy access program lead, works in access to clean cooking with a focus on gender and social inclusion, leads the work on integrating a gender lens and empowering livelihoods, a USD 3 million initiative. The conversation is based on CEEW's recent report -- Improving Women's Productivity and Incomes through Clean Energy in India.
Highlight
Check out our Resources section for more reading
Resources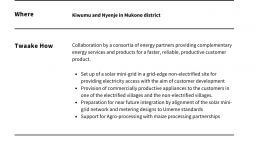 Action Plans
Backgrounder: Twaake, More Than Just Light
The Utilities 2.0 Twaake project in Uganda is a collaboration between centralized and decentralized energy companies including East Africa Power, EnerGrow, Equatorial Power, Power for All, Umeme, The Rockefeller Foundation among other partners with a goal to bring faster connections, increase productive use of electricity, improve grid reliability and stability, reduce grid losses, promote economic growth in rural communities, and improve business profitability.
Newsletter
Sign up to receive our newsletter & occasional updates about our campaign and the progress being made in the DRE sector.
Insights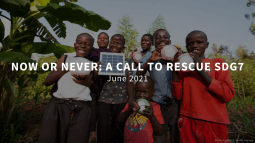 Newsletter Archive
Time is fast running out to end energy poverty
Despite the remarkable growth in rural electrification over the last decade, the world is falling short of its sustainable energy goals. Lack of access to energy impedes both economic and human development. In an urgent call to action ahead of summits on energy and climate, the co-facilitators of the SDG7 Technical Advisory Group assert that we must radically accelerate the pace of scaling energy access to create a more resilient, equitable and sustainable future.
(We won't share your info, and you're free to opt out anytime. See our Privacy Policy for details.)