Different campaigns across geographies are uniting to support a renewable energy future, says May Boeve of 350.org
Not long ago, the idea of a 100 percent renewable energy future felt mostly aspirational. I remember an early 350.org office with a Clean Energy Jobs! poster out front, which frequently attracted passers-by to come in and ask for a job application. I felt sheepish when this happened, really hoping that this future would manifest but, quite honestly, doubting it. There is, after all, so much bad news on the climate front.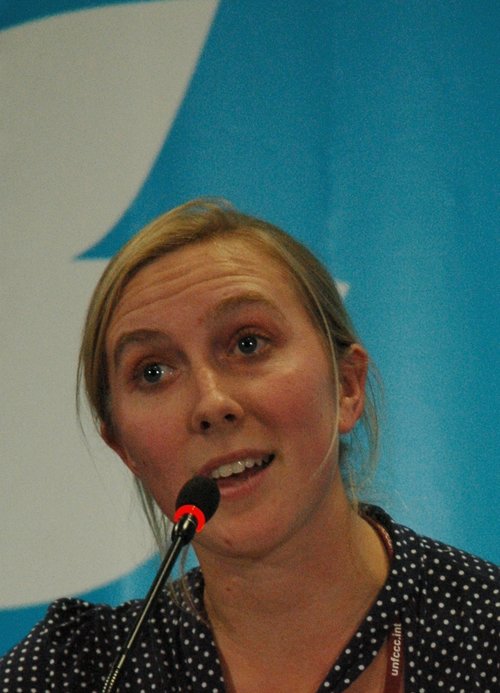 The good news consistently comes from the solutions. Like the fact that the cost of a solar panel dropped 90% in a decade. Or that projections for solar added to the grid each year beat the forecasts every single time. And that these advancements can help become drivers of reducing inequality; those who need these resources the most can and should be the first to receive them. Thanks to groups like Power for All, Solutions Project and the 100% Percent Network, there is an abundance of evidence, tools and resources to keep this good news going.
Now, numerous people around the world are connecting to the electrical grid for the first time—and they are leapfrogging fossil fuels entirely. For this generation, electricity and solar and other renewable power go hand in hand. Goodbye to the outmoded model of digging up dead dinosaurs and burning them in polluting power stations.
For instance in Africa, Ghanaian campaigners G-ROC (Ghana Reducing Our Carbon) celebrated the temporary halt of plans for a proposed Volta River Authority coal-fired power plant in the Ekumfi region, following three years of campaigning against it. They are still campaigning for its permanent cancellation, but with one in every three Ghana citizens lacking access to electricity, the team are now also pushing for energy solutions, including solar home systems and renewable mini-grids, that can transform the country.
Chibeze Ezekiel, Ghana campaigner, said, "The benefits of renewable energy are massive—for our environment, health and wealth". As part of 350 Africa's DeCOALonise campaign, G-ROC has launched the Renewable Energy for Communities campaign (#RE4C) to bring evidence-based, action-focused solutions to the Ghanaian government to embrace the use of renewable energy in its development agenda.
A winning formula is emerging around the world: Grassroots communities are regularly defeating dirty energy projects, whether it's pipelines, fracking wells or new coal mines, through a handful of tools. At 350.org we're uniting many different campaigns across geographies under the banner of Fossil Free, aiming to attract more and more cities into this growing movement. This isn't a new demand, and our partners, particularly locally, have led the way. We hope to create much more momentum behind the demands, attract more commitments, and in so doing help bring about a Fossil Free world.
A lot of this change is possible because of changing models of activism, which are decentralized and can spread to more people more quickly. Part of the inspiration for the creation of 350.org was the very fact of the internet itself; that digital tools could help unite groups of activists who might never meet each other face to face, but who could find common links in their campaigns. We see this happening every day, when an idea in one corner of the globe (like "kayaktivism", where kayakers block ports that are attempting to move fossil fuels) spreads to another through a compelling photo in a tweet.
The campaigns to move communities off dirty energy work symbiotically with those seeking to build decentralized renewable energy. It's supply and demand in action. That's why we're so excited about the Power for All network, and why we're eager to create more linkages in countries that are facing pressure to build coal plants, but know that they deserve solar instead.
Much of this will come to a head during the RISE for climate action mobilization on September 8 later this year, when communities will gather to make Fossil Free commitments, including 100% Renewables, just in time for the Global Climate Action Summit in San Francisco.
May Boeve, executive director of 350.org. For more info, visit: gofossilfree.org