India is one of the largest consumers of kerosene on an absolute and per capita basis. Because there are no accessible, affordable and established sustainable alternatives, poor rural households — especially in remote rural areas — continue to use kerosene as their primary lighting fuel despite the well-recorded health hazards. But this is changing, according to new policy analysis by the International Institute for Sustainable Development (IISD).
Benefits, but for whom?
The central government has decided to not only reduce the volume of subsidized kerosene allocated to states, but to gradually increase the price of subsidized kerosene as well. Between 2011 and 2017, household electrification rose significantly and kerosene consumption fell in India. This decline was driven in part by two central government policies to reduce their expenditure: decreasing quotas of subsidized kerosene to states, and regularly increasing the cost of kerosene.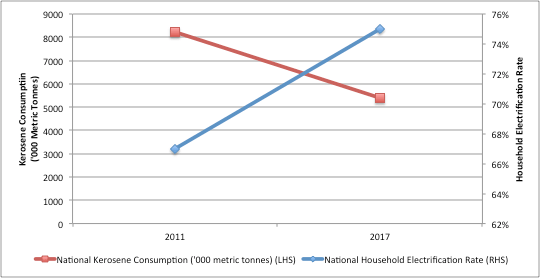 The sharpest quota reduction was in 2016–17 when allocation nationally was reduced by over 20% from the previous year. (Large losses of kerosene to the black market, which prevents intended poor beneficiaries from accessing subsidized kerosene, were also a motivation for the cuts). Meanwhile, the government hiked the price of kerosene every fortnight by 25p per litre. Together, and in combination with the oil price crash after 2013, these two measures have created significant savings, with government subsidies plummeting from 294 billion INR ($4.5 billion) to 76 billion INR ($1.2 billion), or $3.3 billion in savings.
But it is still unclear whether these savings will be passed on to the states, nor is there an inclusive mechanism for such a transfer to take place. Some policies do exist, such as the center giving cash compensation to states that make voluntary reductions in the distribution of subsidized kerosene. But only a few states like Karnataka, Haryana and Telangana undertook voluntary cuts (receiving 1.12 billion INR) in 2016–17.
Without a clear framework, some states run the risk of increased costs for rural households' lighting needs — with hardship most likely to increase in states where household electrification rates are low or poor quality, and a larger percentage of households are rural and poor — such as Odisha, Bihar, Jharkhand and Uttar Pradesh. Odisha, for example, in 2012 was home to 42 million people, of which 14 million are poor and 87% of the population resides in rural areas where electricity supply is poor.
At the same time, reductions in kerosene consumption may decrease state tax revenues, increasing their financial burden. Such revenue losses provide a strong rationale for states to negotiate with the center for more compensation allowances — at least by states with a higher rural population.
Bye-bye kerosene, hello distributed solar
If such compensation allowances are made, kerosene pricing reform presents an opportunity for transitioning rural households to solar lighting. Increases in kerosene prices have made clean lighting solutions like solar lanterns more cost-competitive. IISD policy analysis has found that switching to a certified company's entry-level solar lighting system will slightly reduce the annual cost of lighting for households.
Despite these favorable cost comparisons, solar lighting still faces a barrier that kerosene does not: high up-front costs, which many poor households cannot overcome. Given the net cost savings, states should consider negotiating for a share of kerosene subsidy savings in order to promote solar solutions as a first-best response to meet household energy needs.
Government efforts to reform subsidies make sense, as kerosene is expensive, dirty and the distribution system is prone to leakage and diversion. But for households without good access to electricity, there are significant energy access challenges to address. States can look to these findings in order to negotiate better terms for people living in affected regions, and reinvest savings from kerosene subsidies in more affordable, cleaner and more efficiently run subsidies for clean energy.
This article is based on three IISD policy papers, which examine the impacts of kerosene subsidy reform in India. For more information:
Kerosene to Solar Swap Policy Brief 1: Kerosene Subsidies in India: The status quo, challenges and the emerging path to reform
Kerosene to Solar Swap Policy Brief 2: Building a Market for Off Grid Solar
Lighting Kerosene to Solar Swap Policy Brief 3: Sustainable Lighting Solutions for Rural Homes in India