Power for All launched its national campaign in Zimbabwe at an event in Harare. In Zimbabwe, 86% of the rural population is unelectrified and, even in urban areas, stress on the grid leads to frequent power outages. The Power for All campaign aims to catalyze support for rapidly deployable decentralized renewables to accelerate energy access.
At the launch on May 5, Mr. Partson Mbiriri, the Permanent Secretary of the Ministry of Energy and Power Development, gave a keynote address alongside speakers from campaign partners ZERO, SNV, Practical Action, Hivos and the Renewable Energy Association of Zimbabwe. With almost 90 attendees, double the number expected, the event showed the huge support for clean distributed power—such as solar for households and business, mini-grids and micro hydro—and a desire to take rapid action to address the country's energy crisis.
Power for All Zimbabwe Campaign Manager Chiedza Mazaiwana said, "with millions of people living without electricity in the country, I want to thank all of the dedicated organizations that have joined forces with us to address energy poverty. We must call for greater political and financial support for decentralized renewable solutions so we can get power to communities—fast."
In his speech, the Permanent Secretary echoed Mrs. Mazaiwana's concerns about the energy crisis, saying, "when I see people connected to the grid outcry due to load-shedding, I ask myself, who outcries for the 60% of people who are living with no access at all in Zimbabwe?" Mr. Mbiriri lent his support to the campaign's goal of bringing stakeholders together to address the challenge.
The Power for All campaign and partners were further backed by members of the press, with Mr. Zoro Nkomo of Zi FM radio noting that, "the media has a key role to play in this campaign in getting the message across."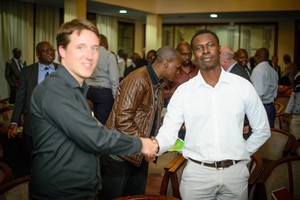 Ngaatendwe Murimba, Programme Officer of the Ruzivo Trust represented one of three organizations that gave a message of solidarity in support of Power for All during the launch.
Mr Murimba explained, "we are part of this campaign and want to see it through. Communities are in need of—and want—energy and this campaign will give practical solutions to address this."
During the event, 15 organizations (see below) also signed the Power for All declaration which calls for greater action on energy access.
Power for All and its partners will now begin a program of activities to support the decentralized renewables sector in Zimbabwe.
Our Thanks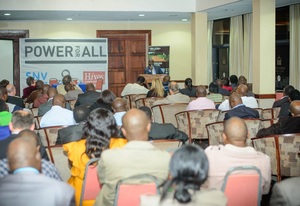 To all those who supported the event and new campaign allies who have signed the Power for All declaration:
Lafe Global
Lafe Industrial project Astral
Cavendish Lloyd Zimbabwe
Comprehensive Energy Solutions
Belshade Investments